Print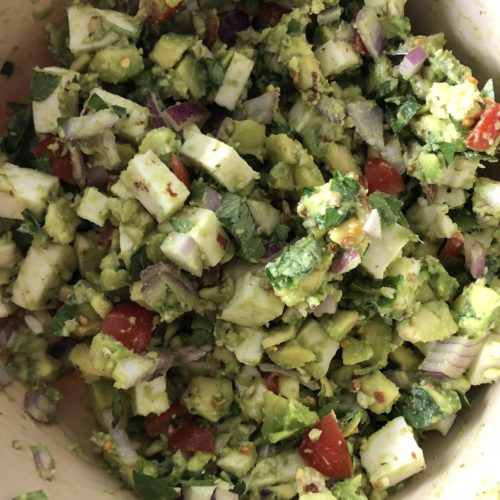 Baked Avocados
Serves 4 🥑🥑🥑🥑🥑🥑🥑🥑🥑🥑 Avocados are an incredible food. Also one of the only 'complete ' foods we can eat, offering our bodies all we need in the way of nutrients. While I love avocados any which way, this is a baked avo recipe which is just heavenly. If you have never baked them before then I urge you to give them a go. Play around with ingredients as usual and find your own way but this is the basis to play with;
4

avocados

1

packet halloumi cubed

1cmx1 cm

10

cherry tomatoes chopped very finely

1

red onion finely chopped

Good glug of Olive oil

3

tablespoons

chopped mixed nuts / pine nuts

walnuts are totally delicious in this so make sure you include some

Dash lemon juice

1

small red chilli chopped

Handful chopped basil

Nutritional yeast for topping

Seasoning to your liking
Pre heat oven to 180 dc

As per the photos below and video, dice the avocados and then add to a bowl.

Put the cases in a baking tray.

Add all the other ingredients and simply mix together until all are well combined.

Transfer back into the cases which you should have laid out in your baking tray. The mixture will in all probability overflow and that's ok. Give a healthy shake of nutritional yeast over the top to ensure the topping will be crispy and delicious.

Cover with foil and pop in the oven for 25 minutes.

Take off the foil and bake for a further 10 minutes until you can see the top has browned and the halloumi is soft.

Enjoy immediately with steamed vegetables or a fresh salad!